I'm linking up with Ashley today for Favorite Things!! She hosts a link up on the last day of every month. You share your "favorites" from the month.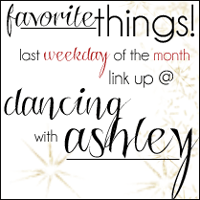 So here are my favorite pictures, recipes, moments, etc...from February 2013!
1.

Brent's birthday was on the first:
2.

Brent and I started going to Barry's Bootcamp together pretty regularly and it has definitely become an addiction for both of us! Quick results come from those crazy hard workouts.
3.

I had a Valentine Heart Pennant Banner giveaway on the blog and made 4 banners for 4 lovely ladies! My kitchen and dining room got taken over with glitter, burlap, and hot glue! Brent was glad to see me put away the glitter b/c he always had it on the bottom of his feet and I think he even ate a spec or two...on accident of course! It somehow migrated from the kitchen counter onto our plates one night.
4.

Since the weather was relatively mild most of this month, we ventured out to the park a handful of times. I love watching Rowen at the park! He loves it. Some of the biggest smiles I have seen have been when we have been there! He loves being outside and his favorite thing at the park the past few weeks/currently is going down the slide and walking around and collecting sticks!
5.

The day before Valentine's I watched Valentine's Day( the movie ) while making delicious red velvet oreo truffle bars. They turned out great and were super yummy! If you want the recipe, go
HERE!
8.

Brent and I had a fun 36 hours in Memphis!
9.

I captured many many smiles from the cutest 15 month old I ever saw!! He turned 16 months 4 days ago!!
Here's to a wonderful month of March!!